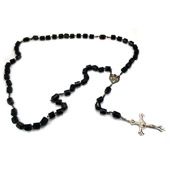 Title
:
Vintage Rosary w/ Black Onyx Beads, Silver Crucifix
Description
:
This interesting rosary is done with black onyx and has a silver crucifix done in the baroque style.
It is believed to be about fifty years old and most probably came from the Western part of Visayas.
Measurement
:
The chain measures about 28 inches in length. The pendant measures 4.7 cm in height and 3.2 cm across.
Condition
:
In very good condition
Weight
:
approximately 80 grams.
Click on thumbnails to enlarge
HAC Code: 3B008