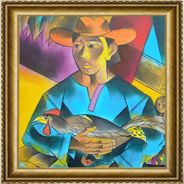 Angelito Antonio (Geometric & Figurative Abstracts) was born in Malolos, Bulacan 1939. Finished his BFA at UST in 1963, where he taught for many years. Married to painter Norma Belleza. Sons Marcel and Emil, and daughter Fatima are painters in their own right. Father Mariano also took fine arts at UP. Works first exhibited at Phil Art Gallery, 1963. Started with a black-and white series but later developed his own color schemes using such as colors as acidic yellow. Used black charcoal-like strokes as structuring principle in his works. Has experimented with particular hues to delineate figures. His subjects have primarily been of folk genre, including cockfighters, vendors, ice cream peddlers, and balloon sellers. The works of Angelito Antonio depicting mother-and-child are that has grown through the years. While he shares obsession with other artist, Antonio's work with the Madonna is underlined with its own distinctive vigor.
(Source: CCP Vol IV; Archipelago Magazine )
Awards and Recognition
Participated in foreign group exhibits, including an Australian Tour of Philippine Art in 1964, the first Intl exhibit in Saigon, the NY World's Fair, Asia House in NY, and a tour contemporary art under the auspices of Cathay Airways in 1965.
Awards at the SNSAC are : 3rd prize, 1958; 2nd prize, 1963; and certificate of merit in 1964.
Awards from the AAP include: 3rd prize, 1962; 2nd prize, 1963; hon mention, 1969; 1st prize & special award, 1970; and major award, 1972.
Won 1st prizes in the Travellers Life art competition of 1961, UST's 300th Anniversary competition of 1962, and the Phil Airlines art contest, 1968.
Received the Thirteen Artist award, CCP, 1970.
Patnubay ng Sining at Kalinangan award from the City of Mla, 1984.
Available Artworks for Sale




Click on Thumbnails to Enlarge




Balloon Vendor(SOLD)
Oil on Canvas
16 x 12
2015
HAC Code: GBA 80655

Mother and Child(SOLD)
Oil on Canvas
18 x 24
2015
HAC Code: GBA 80667

Family
Oil on Canvas
18 x 18
2015
HAC Code: GBA 80669

Mother and Child (SOLD)
Oil on Canvas
18 x 18
2015
HAC Code: GBA 80630

Musicians (SOLD)
Oil on Canvas
18 x 18
2015
HAC Code: GBA 80629

Musician
Oil on Canvas
16 x 12
2015
HAC Code: GBA 80650

Mother and Child
Oil on Canvas
16 x 12
2015
HAC Code: GBA 80647

Candle Vendor
Oil on Canvas
16 x 12
2015
HAC Code: GBA 80648

Mother and Child
Oil on Canvas
16 x 12
2015
HAC Code: GBA 80649

Mother and Child
Oil on Wood
10 x 15 3/4 x 5/8 inches
2011
HAC Code: GBA 79298

Mother and Child
Oil on Canvas
8" x 8"
2014
HAC Code: 79997

Father and Child
Oil on Canvas
8" x 8"
2014
HAC Code: 79995

Lady Fruit Vendor(SOLD)
Oil on Canvas
16" x 12"
2013
HAC Code: GBA 79915

Mother and Child
Oil on Canvas
8" x 8"
2014
HAC Code: 79999

Bird Vendor
Oil on Canvas
8" x 8"
2014
HAC Code: 79998

Lady Fruit Vendor
Oil on Canvas
16" x 12"
2013
HAC Code: GBA 79783

Mother and Child
Oil on Canvas
16" x 12"
2013
S O L D

Mother and Child
Oil on Canvas
18" x 18"
2012
HAC Code: ---

Sabungero
Oil on Canvas
18" x 18"
2012
HAC Code: GBA 79677

Baloon Vendor
Oil on Canvas
18" x 18"
2013
HAC Code: ---

Musicians
Oil on Canvas
18" x 18"
2013
HAC Code: ---

Mother and Child
Oil on Canvas
18 x 18
2015
HAC Code: GBA 80683

Musician
Oil on Canvas
18 x 18
2015
HAC Code: GBA 80682

Musician
Oil on Canvas
12 x 16
2015
HAC Code: GBA 80688

Mother and Child
Oil on Canvas
18 x 18
2015
HAC Code: CDY 80709