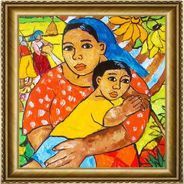 Norma Belleza was born in San Fernando, Pampanga 1939. (Folknaifs) BFA UST 1962. Belonged to a family of movie marquee and billboard painters. Husband Angelito Antonio and children Fatima, Emil and Marcel, are active painters. First Solo, Phil Art Gallery, 1963, where she was artist in residence with painter-husband Llito. Stopped painting for a decade, then had a solo of new works at Metro Gallery, 1976. Has had nine one-person shows since, such as at the Luz and ABC Gallery, among others. Latest solo, 1992, Heritage Art Center, SM Megamall. At first, Belleza's paintings were dark and sombre, later progressing into wildly colorful and detailed work on folk genre, including women vendors, potters , and peasants. Figurative works placed emphasis on her subjects physical strength and appearance. Colos has remained of primary importance. Her debt to Roualt is undisputable, both in the manner she draws her figures and in the way she frames them against her backgrounds. her colors, in almost relief-like use of layered impasto, throb with livid greens and yellows out of surrounding blacks and reds.
(Source: 20th Century, 1st Ed ,Vol II; CCP Vol IV; Archipelago Magazine Vol. 4, 1977)
Awards and Recognition
In the collection of the Jaycee International Art Center and the Universtiy of Sydney International House.
Won second prizes, SNSAC of 1961, and the Traveller's Life Art tilt in '61 and '62.
Won 3rd prize and honorable mention, AAP Annual and Semi-annual of 1963; and the Gabriela Silang art competition.
Was 1993 Araw ng Maynila awardee for painting.
Available Artworks for Sale




Click on Thumbnails to Enlarge




Mother and Child
Oil on Canvas
8 x 8
2015
HAC Code: GBA 80662

Mother and Child
Oil on Canvas
8 x 8
2015
HAC Code: GBA 80663

Fruit Vendor
Oil on Canvas
8 x 8
2015
HAC Code: GBA 80664

Tres Matias
Oil on Canvas
18 x 24
2015
HAC Code: GBA 004

Family (SOLD)
Oil on Canvas
18 x 24
2015
HAC Code: GBA 80631

Vendors
Oil on Canvas
18 x 24
2015
HAC Code: GBA 80654

Tres Matias
Oil on Canvas
12 x 16
2015
HAC Code: GBA 001

Tres Marias
Oil on Canvas
12 x 16
2015
HAC Code: GBA 002

Tres Marias
Oil on Canvas
12 x 16
2015
HAC Code: GBA 003

Tres Marias
Oil on Canvas
8 x 8
2014
HAC Code: 80043

Fish Vendor
Oil on Canvas
8 x 8
2014
HAC Code: 80044

Mother and Child
Oil on Canvas
8 x 8
2014
HAC Code: 79994

Fruit Vendor
Oil on Canvas
8 x 8
2014
HAC Code: 80040

Fruit Vandor
Oil on Canvas
8 x 8
2014
HAC Code: 80041

Mag-asawa
Oil on Canvas
8 x 8
2014
HAC Code: 80042

Mother and Child (SOLD)
Oil on Canvas
12 x 16
2013
HAC Code: GBA 79764

Fish Vendor
Oil on Canvas
8 x 8
2014
HAC Code: 80038

Fish Vendors
Oil on Canvas
8 x 8
2014
HAC Code: 80039

Fruit Vendor
Oil on Canvas
18 x 24
2012
HAC Code: GBA 79766

Mother and Child
Oil on Canvas
18 x 24
2013
HAC Code: GBA 79767

Mother and Child
Oil on Canvas
24 x 18
2013
HAC Code: GBA 79869

Tres Marias (Fish Vendors)
Oil on Canvas
12 x 16
2013
HAC Code: -

Family
Oil on Canvas
12 x 16
2013
HAC Code: GBA 79871

Mother and Child
Oil on Canvas
12 x 16
2012
HAC Code: 79767

Children at Play (SOLD)
Oil on Canvas
12" x 16"
2013
HAC Code: Code

Mother and Child (SOLD)
Oil on Canvas
8" x 8"
2013
HAC Code: GBA 79886

Streetfood Vendor
Oil on Canvas
8" x 8"
2013
HAC Code: GBA 79887

Vendor
Oil on Canvas
8" x 8"
2013
HAC Code: GBA 79888

Kangkong Harvest
Oil on Canvas
8" x 8"
2013
HAC Code: GBA 79889

Mother and Child (SOLD)
Oil on Canvas
8" x 8"
2013
HAC Code: GBA 79890

Family
Oil on Canvas
18" x 24"
2011
HAC Code: 79254

Fish Vendor
Oil on Canvas
16" x 13"
2010
HAC Code: 77495

Mother and Child (SOLD)
Oil on Canvas
16" x 13"
2010
HAC Code: 01-002

Mother and Child
Oil on Canvas
15" x 12"
2010
HAC Code: 01-027

Family
Oil on Canvas
28" x 14"
2010
HAC Code: 01-304

Mother and Child
Oil on Canvas
15" x 12"
2010
HAC Code: 02-070

Mother and Child
Oil on Canvas
Oil on Canvas
2010
HAC Code: 77642

Fruit Vendor
Oil on Canvas
24" x 18"
2010
HAC Code: 77646

Fruit Vendor
Oil on Canvas
12" x 15"
2010
HAC Code: 05-114

Family
Oil on Canvas
12" x 15"
2010
HAC Code: 05-115

Tres Marias
Oil on Canvas
24" x 18"
2010
HAC Code: 07-069

Mother and Child
Oil on Canvas
12" x 15"
2010
HAC Code: 07-070